Analysis by BBC political editor Laura Kuenssberg
Pressed on whether she did believe the issue of the rights of EU nationals in the UK - and Britons abroad - could be settled in June, she said: "I've always said that I want this to be an issue that we address at an early stage."
"I've always said that there are complexities to this issue and lots of details that will need to be agreed. What people want to know is to have some reassurance about their future. I believe we can give that at an early stage. I've got the will to do this," she added.
She also said she would have "no intention of doing anything other" than serving a full term until 2022 if she wins the 8 June general election.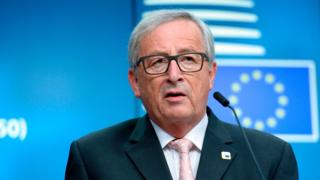 Opposition parties have accused the Tories of pursuing a "hard Brexit" strategy, with the PM insisting no deal is better than a bad one and planning to withdraw the UK from the EU single market.